In a 2019 All Medical Personnel survey, U.S.-based physicians, NPs and PAs were asked what the biggest challenge to healthcare would be in the next decade. Providers overwhelmingly cited financial concerns as the biggest challenge followed by authority, staffing and availability.
Rising patient costs, insurance and reimbursement limitations were top concerns among financial-related factors. "People avoid the care they need because of the high cost of healthcare and the huge deductibles," said one provider. Many expressed opinions about declining reimbursement and the overall burden of dealing with insurers. As one doctor said, "insurance companies [are] taking over healthcare."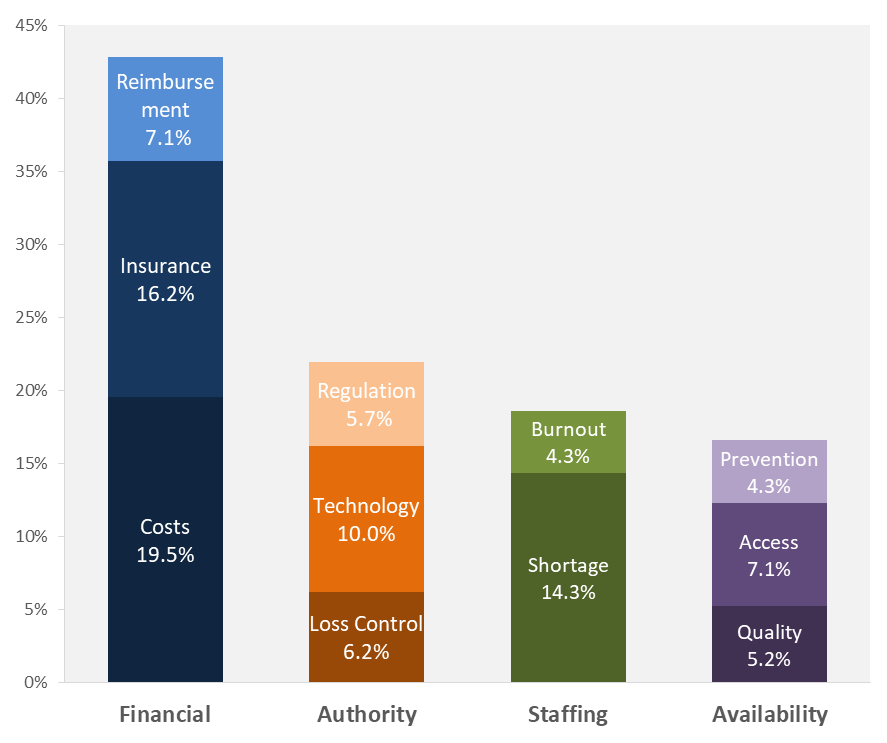 A little under a quarter of the providers we surveyed stated that authority was the biggest challenge facing the industry. Common factors included government regulations, runaway technology and a diminished ability to make independent decisions without third party interference. Several providers said third parties are becoming so influential and powerful that it's changing the dynamic of the doctor-patient relationship itself. Mistrust of the system including electronic medical records and privacy, were also top concerns regarding loss of control.
Another 19 percent of respondents said staffing, including burnout and consequently practitioner shortages, were a top challenge for the healthcare industry over the next decade. Not surprisingly, the shortage concerns were extended to the larger population of healthcare practitioners including nurses. One doctor opined that everyone is increasingly "weathering the storm of disgruntled providers who are quitting medicine due to unfavorable practice conditions."
Patient access to care, quality of care, and prevention – especially with an aging population of baby boomers and underserved social pockets – was a theme among respondents who stated availability as a chief challenge. A nurse practitioner commented that there is a squeeze of "exchanging quality of care for quantity of care."
While the national healthcare debate rages on, most agree that the industry has big hurdles to overcome in the next decade. Regardless of where the debate takes us, the patient remains top-of-mind with healthcare practitioners. As one provider told us, "[the] patient-provider relationship is a partnership…their concerns, fears and opinions need not be dismissed."