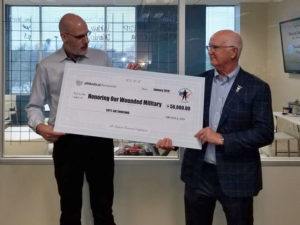 IRVING, TX, January 11, 2019 – Thanks to the generosity of its employees, All Medical Personnel presented Honoring Our Wounded Military (H.O.W.M.) with a check today for $56,026.10. H.O.W.M.'s mission is to raise much needed funds in support of our wounded military by conducting benefit events that also bring the community of North Texas and the Nation together for this specific, common goal.
"All Medical Personnel is proud to support the military and our nation's veterans," said Neil Bernstein, President and CEO of All Medical Personnel. "H.O.W.M. is an incredible organization that assists veteran families in countless ways. Employee support of H.O.W.M. comes on the heels of our charitable contribution to Wounded Warriors a few years ago."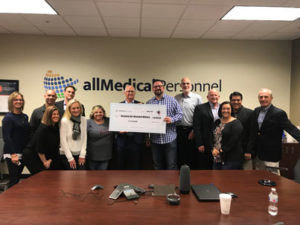 Bernstein presented the check to Lieutenant Colonel Kevin Sweeney, Chief Volunteer Officer and President of Honoring Our Wounded Military in the Dallas-Fort Worth area. Sweeney was joined by other representatives including Steve Setian, Walt Ashbury, Candace Dillard, Debbie Abelson, Sonny Rath and Joel Brown.
A year ago, Lieutenant Colonel Sweeney was invited to speak at an All Medical Personnel company meeting about the importance of donations and how those donations benefit wounded military members and their families. His spirited, personal testimony detailed his real-life story where he successfully landed a KC-135 after two of the four engines were ripped completely off the airplane while on a night combat mission in Desert Storm. 
All Medical Personnel's annual charity program is a core part of the Company's vision of helping our communities, helping our customers and helping our co-workers. It began several years ago when employees' wanted to recognize a team member who was fighting cancer and began raising funds on their behalf to donate to the American Cancer Society. Since then, the effort has grown into a full blown annual donation program with a company match. Employees participate through a "jeans program," making monthly donations to wear jeans to the office any day of the week. A different charitable organization is voted on every 12 months. To date, All Medical Personnel employees have contributed more than $176,000 across five charitable organizations.
Since its founding in 1990, All Medical Personnel has steadily increased its presence in local, regional and national markets. From the start, All Medical Personnel has focused solely on providing workforce solutions to the healthcare industry, offering per diem, project, temporary staffing, and permanent placement. Today, All Medical Personnel is a national leader, serving clients throughout the United States. For more information, go to allmedical.com.