January 17, 2020 | Irving, TX – All Medical Personnel presented its 2019 Charity Partner, Single Parent Advocate (SPA) with a check for over fifty-nine thousand dollars ($59,681) at the company's annual kickoff meeting this week. The support from its employees has helped SPA fulfill their mission in empowering and equipping single parent families to live successful and productive lives.
"I am humbled by the love and support our employees shared with the single parent families in North Texas throughout this past year," said Neil Bernstein, President and CEO of All Medical Personnel. "Single Parent Advocate is an incredible organization that gives these families an even better hope for the future."
Bernstein presented the check to Stacie Poythress, Founder and CEO of Single Parent Advocate in Dallas-Fort Worth, TX.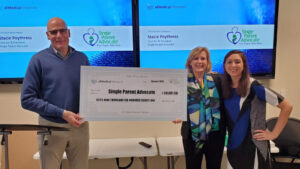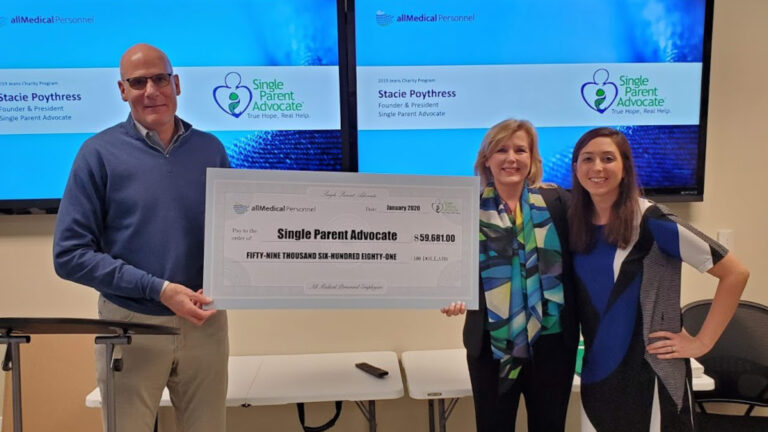 A single parent herself, Poythress founded SPA ten years ago after the market crash of 2009, realizing that she wanted to find a way to support not only her own family, but other single parent families throughout North Texas.
"One in three children are being raised by single parents in North Texas," said Poythress. "I wanted to say thank you to All Medical Personnel for stepping up and being aware of what is going on with the families around you."
All Medical Personnel's annual charity program allowed its employees to see these families first hand through different events including a toy drive, a holiday event to sort and assemble gift packages, and a Writing on the Wall initiative that let employees write positive affirmations to give to the single parents.
"The work we did this year set up a lot of families for success in 2020 and that is something tangible we all felt when Stacie came to speak," said Kelsey Pirrello, Director of Talent Acquisition. "It's been extremely rewarding for us to work so closely with Single Parent Advocate this year and become involved in their local events."
All Medical Personnel's annual charity program is a core part of the company's vision of helping its local communities, customers, and co-workers. What began several years ago with the organization's support of an employee battling cancer and a donation to the American Cancer Society, has now grown into an annual program where funds raised by the staff are matched by the company. Employees participate through a "jeans program," making monthly donations to wear jeans to the office any day of the week. A different charitable organization is voted on every 12 months. To date, All Medical Personnel employees have contributed more than $235,000 across five charitable organizations.
About Us: All Medical Personnel has helped healthcare organizations and practitioners for 30 years. We help clients take care of customers and patients. We help candidates find meaningful work. We help communities by giving back. And we help each other deliver superb customer experience. Because of our dedication to high-quality, we are recognized as a healthcare staffing leader for physicians, nurses, allied health and executives. We invite you to learn more about our company, and why we are recognized as one of the Best Places to Work, at allmedical.com.
###